---
{{item.currency}}
{{pricing}}
---
---
{{item.currency}}
{{pricing}}
{{item.currency}} {{item.normalPrice}}
---
{{item.currency}} {{pricing}} - Out of Stock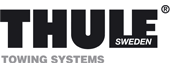 Thule has introduced a range of towbars to suit all needs:
Retractable Towbar - Thule is proud to present its latest product: the retractable towbar. Thanks to this innovative towbar system, the ball disappears behind the bumper but remains accesible at all times. The towbar is therefore always ready for use. In fact, when the towbar is not in use, it appears as if the vehicle in not equipped with one.

The retractable towbar -simple to use and compact- embodies design and quality. The nickel and Teflon coating provides a high level of durabilty. The retractable electrical socket plate ensures the entire unit vanishes from view. And another important point: the retractable towbar takes just as long to install as a towbar with removable ball.

This underlines Thule's position as the European market leader in the sale and development of towbars. Thule's latest innovation is only provided for a limited number of vehicles at present but will gradually become available for more models.

Detachable Towbar -

The BrinkMatic Advance (BMA) is even more innovative than the BrinkMatic Mirage (BMM). The key feature of this new system is the coupling of the ball. At first the ball is easily be layed in the housing. After a light push in vertical direction on top of the ball, the system just clicks into position. The BMA is supplied with a security lock, a bag for the towball and where possible a fold-away socket plate.

Fixed Towbar -

Thule delivers, beside the smart, retractable and detachable alternatives, also the well known and approved fixed towbars for cost-conscious motorists. The quality is irreproachable, that is what the name Thule stands for. Fixed towbars are practically for every car. For some models a flange version is available for practically every car.

When the ball comes in front of the nuber plate, a detachable towbar is the right choice. In this case the ball needs to be detached at those moments when the trailer is not coupled. In this case it?s so that special tools may not be needed for detaching the ball.
These towbars are available at selected stores :
Jody's Tyres Conti Partner Clearwater

Jody's Tyres Conti Partner Cresta

Jody's Tyres Hi-Q Randpark Ridge

Bush Hill Outdoor & Carrier World

Speedy Northcliff